Big opening to the summer season in Covo di Nord Est style. The historical space between Santa Margherita and Portofino turned his lights on again. More than 500 guests were present at the dinner party, among them the regional councilman Gianni Berrino, the mayors of Santa Margherita Ligure and Rapallo, Paolo Donadoni and Carlo Bagnasco, and the food blogger and TV host Valentina Scarnecchia.
"We're happy to see a lot of faces that, for years, were missing from Covo di Nord Est"- the art director Andrea Fusieto Merciari says proud – "As usual, a lot of personalities from politics and businesses of Genoa and Tigullio. A big party to begin a season that will aim, like always, to the best quality."
The new brand "Il Buongustaio", that will offer every day at the Garden of Covo di Nord Est gourmet sandwiches and pinsa made with products Made in Italy,  was presented. There were innovations also in the restaurant business with the catering of the night left to Mino Patti, chef of the notorious Eden in Rapallo, who, on Saturday night, delighted the guests with a champagne risotto. Other culinary distinctions of the night were the 'focaccia al formaggio' of the maestro Giulio Cassinelli, the wines of the house 'La Scolca di Gavi', the beverages of Niasca Portofino, the pesto made at the moment of Emiliano Pescarolo, just awarded with the title of world champion, using Niasca Portofino's 'Olio Nazionale', the specialities of the Old Salumificio of Castiglione and the Dairy Cooperative of Val di Vara. To surround the space, the paintings of Nicolò Camaiora from the Belin Concept. During the night there was also a moment of solidarity with the lottery, whose proceeds were given to the 'Band degli Orsi', working with the Gaslini Hospital in Genoa.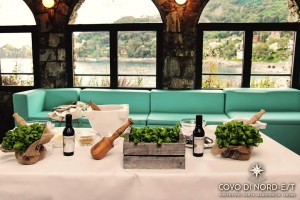 The Covo di Nord Est is made up by an open space and a close space: it hosts the main dj consoles, where the locals have performed, but also important and famous guests have. On the inside, there is a beautiful bar counter, while on the outside there is a large dance floor and some privé, designed to be moved inside the space and give it a different aspect every night. Elegancy and class, without ever going over the top. In the innermost part of the Covo di Nord Est, the 'Grotta' is literally carved in the rocks: its vaulted ceilings and its pavements made entirely out of slate inspire an extreme suggestive charm.