Welcome to the Fondaco! This is our headquarter, our warehouse, our showroom but most of all our heart.
The original project of Niasca Portofino was to be lively also during the winter months, when the weather conditions to not allow open air activities. We therefore decided to renovate an abandoned warehouse in the center of town, known today as the Fondaco. This is where the cooking school and the apartment to rent are located.
It has been conceived with the idea of introducing the typical decorations and the architecture of Portofino in a modern key, we therefore asked an important professionist and an international artist, Luca Cipelletti and David Tremlett, who know the area very well and fondly love our town, to renovate what today has become the heart of our Company.
The main idea was to maintain a connection and a balance with the territory, we therefore used local materials as the sandstone and the olive tree wood. The decorations have been made with the colors of our land: yellow like the lemons, brown of the soil and green from the olive trees. The modern geometry is a line that from the outside reflects itself indoors, with decorations in graffiti, that reflect the facade. All that is inside the Fondaco is an armonic comunion of the materials and of the geometric shapes: the door handles, the pictures on the table and on the dishes, the lights, the table legs. The table itself is conceived as a meeting point between our guests and ourselves, as we put at disposal our experience to explain our local traditions, especially those connected to cooking.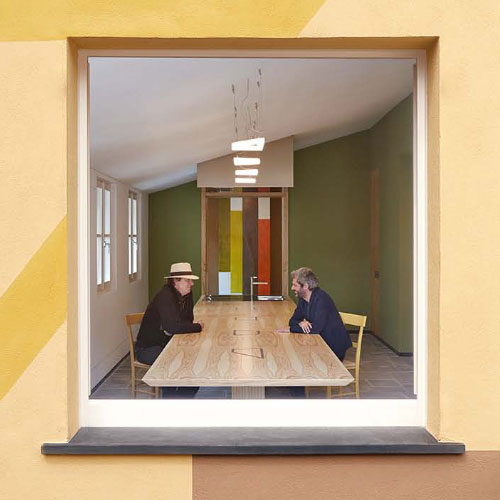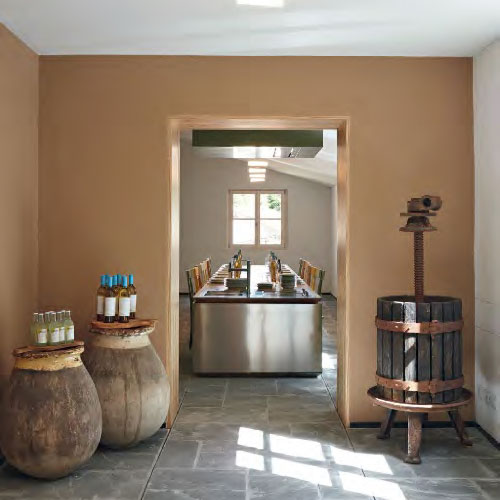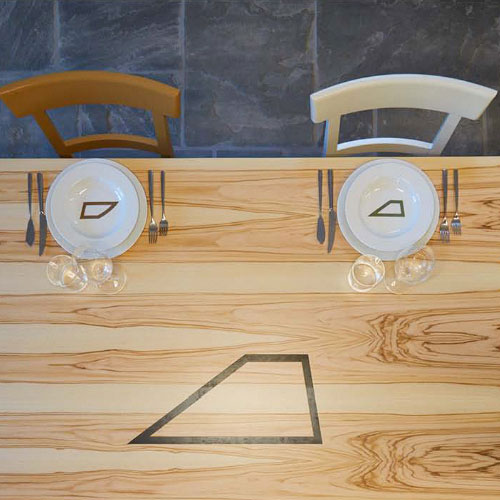 Nextdoor to the Fondaco is our guesthouse, composed of one spacious living area with sofa and table, one kitchen where our guests can prepare their own meals and two separate bedrooms each with private facilities. Free wi-fi connection always available.
It is centrally located, and if you choose to stay with us you will find yourself in a comfortable position to walk in the village and enjoy the life of the Piazzetta, with its' famous restaurants and shops, and the paths that lead you all throughout the hill of Portofino to lovely trekking explorations that can take you all the way around the mountain to the famous abbey of San Fruttuoso, up to the very top of the hill, or more simply a more comfortable walk to Santa Margherita.
Our offices are located nextdoor, and this guarantees that in case of any necessity or perhaps for an advice for dinner or activities to do in the area all you have to do is to knock on the door and we will be there for you!